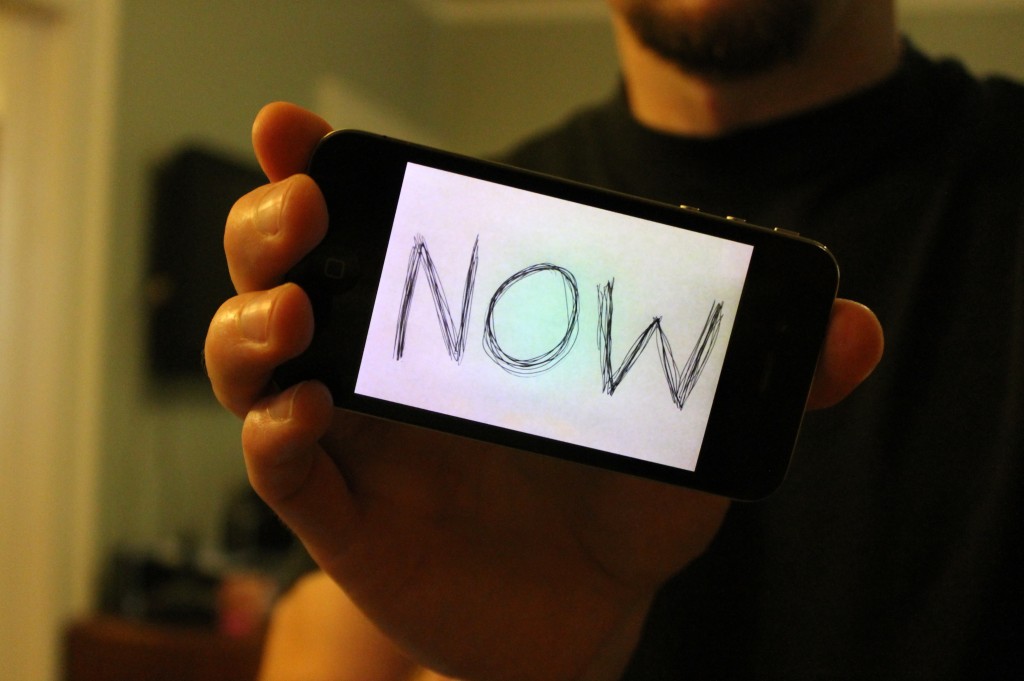 The problem with now is to some degree a problem for all of us. We can have almost anything we want…now. Information, food, companionship, you name it. And if you can't get it now, you're either underfunded or in Antarctica. But I digress…
This problem is much more noticeable when people hit the gym. There are basically two types of people who come to CFW-
-those who want to lose weight and get in shape.
-those who want to get bigger, stronger, and faster so they can compete at CrossFit.
That's a bit of a broad stroke on my part, because sure there are guys and gals just looking to "get fit" and not actually compete but overall the above two are what I typically see.
So what's the Problem With Now?
Well, you see, neither weight training for gaining strength and efficiency nor losing a significant amount of weight is an easy process. How many of you who have been on a weight loss journey step on the scale every day? Who has been just crushed to find out that a day after "the hardest and longest workout of your life" you gained a pound? WHAT?!! Who among you trying to get stronger expects a new PR every lift attempt? Do you question why you're even there on a day when the weights feel glued to the floor?
The truth is this is a process. A journey.
Can we help with weight loss? Sure, check out this and this and this.
Can we make you a stronger athlete? You bet, see here and here.
What are some things that can help?
Well, number one is prior experience. If you where a high school or college athlete, chances are pretty good that you have some motor skills that are lying dormant and we just need to get those puppies firing. Your progress will happen a bit faster than the average Joe. If you didn't play sports or dance or do gymnastics as a kid, then it's likely that your learning progression will take longer.
On the weight loss side of things, it's all about being clear and vigilant about your goal. If you say, "I want to weigh 180# but I currently weigh 223#. Should I eat this cheeseburger and fries?" The answer is, no. It's simple, get rid of the cheeseburger- Every. Single. Day. <<This is a big key to remember because the tendency to reward ourselves is another problem with now. "I did soooo good yesterday so NOW I'm going to treat myself to this blizzard." This happens so often it's scary. Even though logic dictates that the blizzard does not line up with your goal, it's a treat so it's OK. It's not. Don't do it. Real food. Smart exercise.
Take home? Don't get sucked into the "iphone-like everything is at my fingertips" mentality at the gym. You can't get it all today. You might not get it all tomorrow. Heck, it might be a while. But one thing is for certain, it will never come if you give up and quit.
The fact that the strength or body composition you want is not easy to come by should be all the more reason to be proud of goals you accomplish. Set goals or milestones along the way and celebrate (just don't eat a blizzard).
I leave you with an excerpt from The Iron by Henry Rollins:
It took me years to fully appreciate the value of the lessons I have learned from the Iron. I used to think that it was my adversary, that I was trying to lift that which does not want to be lifted. I was wrong. When the Iron doesn't want to come off the mat, it's the kindest thing it can do for you. If it flew up and went through the ceiling, it wouldn't teach you anything. That's the way the Iron talks to you. It tells you that the material you work with is that which you will come to resemble. That which you work against will always work against you.
It wasn't until my late twenties that I learned that by working out I had given myself a great gift. I learned that nothing good comes without work and a certain amount of pain. When I finish a set that leaves me shaking, I know more about myself. When something gets bad, I know it can't be as bad as that workout.
I used to fight the pain, but recently this became clear to me: pain is not my enemy; it is my call to greatness. But when dealing with the Iron, one must be careful to interpret the pain correctly. Most injuries involving the Iron come from ego. I once spent a few weeks lifting weight that my body wasn't ready for and spent a few months not picking up anything heavier than a fork. Try to lift what you're not prepared to and the Iron will teach you a little lesson in restraint and self-control.
I have never met a truly strong person who didn't have self-respect. I think a lot of inwardly and outwardly directed contempt passes itself off as self-respect: the idea of raising yourself by stepping on someone's shoulders instead of doing it yourself. When I see guys working out for cosmetic reasons, I see vanity exposing them in the worst way, as cartoon characters, billboards for imbalance and insecurity. Strength reveals itself through character…
Muscle mass does not always equal strength. Strength is kindness and sensitivity. Strength is understanding that your power is both physical and emotional. That it comes from the body and the mind. And the heart.